Mathematics and computation have occupied a central place in the liberal arts curriculum from its earliest history. Across societies, we find mathematics not only in the service of science, government, and ritual, but also for its own sake – an aesthetic of mathematical beauty. In recent centuries, the mathematical sciences have been viewed as fundamental to describing the laws of nature. In the 20th century, statistics enabled the growth of the social sciences. In the present day, computers are not merely aiding in the observation of societies, but evidently reshaping them. Mathematics continues to flourish with powerful applications.
Majoring in Mathematical, Computational and Statistical Sciences (MCS) offers the opportunity to pursue traditional curricula as well as curricula that cut across disciplinary boundaries.
Traditional curricula can prepare students for graduate study in mathematics, computer science or statistics, as well as specialised careers in industry. Students in the MCS major develop skills in analysis and problem-solving, and in the communication of complicated information. Such skills are highly – and widely – sought after in the workforce.
The MCS major can include courses that cross disciplinary boundaries, creating a major with complementary interests in subjects such as economics, philosophy and the natural sciences. A small number of courses that contribute to the major may be taken from other disciplines, with the approval of the Head of Studies. Close guidance with faculty is required so that students achieve a reasonable balance of breadth and depth. Our faculty can advise a rigorous curriculum of classes at Yale-NUS College, supplemented by the excellent variety of courses at the National University of Singapore (NUS).
STRUCTURE
To major in Mathematical, Computational and Statistical Sciences (MCS), a student must complete a pathway that includes eight (Class of 2017 and 2018) to nine courses (class of 2019 onwards) [40-44 Modular Credits (MC)] beyond the Common Curriculum and a year-long capstone project. Many pathways are possible, and the MCS faculty will work personally with each student to design a rigorous and coherent programme of study. The Head of Studies must approve any pathway that is meant to satisfy the requirements for an MCS major. Many of the courses on a pathway will be required for the student to earn a degree in MCS. Any changes in pathway require careful discussions with the MCS faculty and the approval of the Head of Studies.
Below are some sample pathways – model courses of study – that students might follow for an MCS major. They should be understood as starting points for students to devise their personal curriculum with MCS faculty. Although some of the models below contain more than nine courses, in all cases an MCS major is possible with a total of nine courses plus the capstone, and the MCS faculty advisor will indicate which courses along the personal pathway are required for the degree.
SAMPLE PATHWAYS
Traditional Examples
Mathematics
Y2S1
Proof
Y2S2
Discrete Mathematics
Linear Algebra
Y3S1
One Real Variable
Groups
Foundations of Applied Mathematics
Geometry
Y3S2
Study Abroad
Y4S1
Galois Theory
Harmonic Analysis
Capstone
Y4S2
Ordinary and Partial Differential Equations
Complex Analysis
Topology
Capstone
Computer Science
Y2S1
Proof
Introduction to Computer Science
Introduction to Python (2 MC)
Y2S2
Fundamentals of Programming
Programming Languages and Implementation Discrete Mathematics
Y3S1
Principles and Techniques of Software Design
Computer Vision
Y3S2
Study Abroad
Y4S1
Designing Interactive Systems
Capstone
Y4S2
Operating Systems
Advanced Algorithms
Machine Learning
Capstone
Statistics
Y2S1
Data Analysis and Visualisation with R
Y2S2
Statistical inference
Linear Algebra
Probability (NUS)
Introduction to Python (2 MC)
Y3S1
Foundations of Applied Mathematics Statistical Computing
One Real Variable
Y3S2
Study Abroad
Y4S1
Regression Methods
Stochastic Processes and Models
Capstone
Y4S2
Machine Learning
Statistical Principles
Capstone
Interdisciplinary examples
Mathematics with emphasis on physics
Y2S1
Conceptual Calculus (2 MC)
Applied Calculus (2 MC)
Introduction To Python (2 MC)
Y2S2
Proof
Introduction To Computer Science
Linear Algebra
Classical Mechanics And Special Relativity
Y3S1
Statistical Thermodynamics
Groups
Foundations Of Applied Mathematics
One Real Variable
Y3S2
Study Abroad
Y4S1
Electrodynamics
Harmonic Analysis
Capstone
Y4S2
Ordinary And Partial Differential Equations
Quantum Mechanics
Topology
Capstone
Mathematics with humanities
Y2S1
Proof
Y2S2
Introduction To Computer Science
Discrete Mathematics
Linear Algebra
Y3S1
One Real Variable
Geometry
Y3S2
Study Abroad
Y4S1
Designing Interactive Systems
Groups
Galois Theory
Capstone
Y4S2
Logic (Philosophy)
Philosophy Of Science (Philosophy)
Topology
Capstone
Information Security
Y2S1
Introduction To Computer Science
Proof
Y2S2
Discrete Mathematics
Fundamentals Of Programming
Linear Algebra
Programming Language Design And Implementation
Y3S1
Number theory
Y3S2
Study Abroad
Y4S1
Coding Theory (NUS)
Cryptography (NUS)
Capstone
Y4S2
Advanced Algorithms
Operating Systems
Machine Learning
Capstone
Computer Graphics
Y2S1
Data Analysis And Visualisation with R
Proof
Y2S2
Linear Algebra
Fundamentals Of Programming
Y3S1
Geometry
Computer Vision
Computer Graphics (NUS)
Y3S2
Study Abroad
Y4S1
Designing Interactive Systems
3D Modelling And Animation (NUS)
Capstone
Y4S2
Advanced Algorithms
Operating Systems
Machine Learning
Capstone
Computer Science and Statistics for a career with big data
Y2S1
Data Analysis And Visualisation with R
Introduction To Computer Science
Y2S2
Fundamentals Of Programming
Statistical Inference
Linear Algebra
Discrete Mathematics
Y3S1
Proof
Geometry Computer
Vision Statistical
Computing
Y3S2
Study Abroad
Y4S1
Regression Methods
Statistical Principles
Capstone
Y4S2
Programming Language Design And Implementation
Advanced Algorithms
Machine Learning
Capstone
Computer Science and Statistics for Public Health or Biotechnology
Y2S1
Data Analysis And Visualisation With R
Y2S2
Statistical Inference
Linear Algebra
Y3S1
Statistical Computing
Genetics
Y3S2
Study Abroad
Y4S1
Regression Methods
Stochastic Processes And Models
Capstone
Y4S2
Statistical Principles
Population Genetics And Evolution
Capstone
COURSES
All courses listed below are 5 MCs.
Prerequisites (mandated or recommended) may be found in the flow chart below.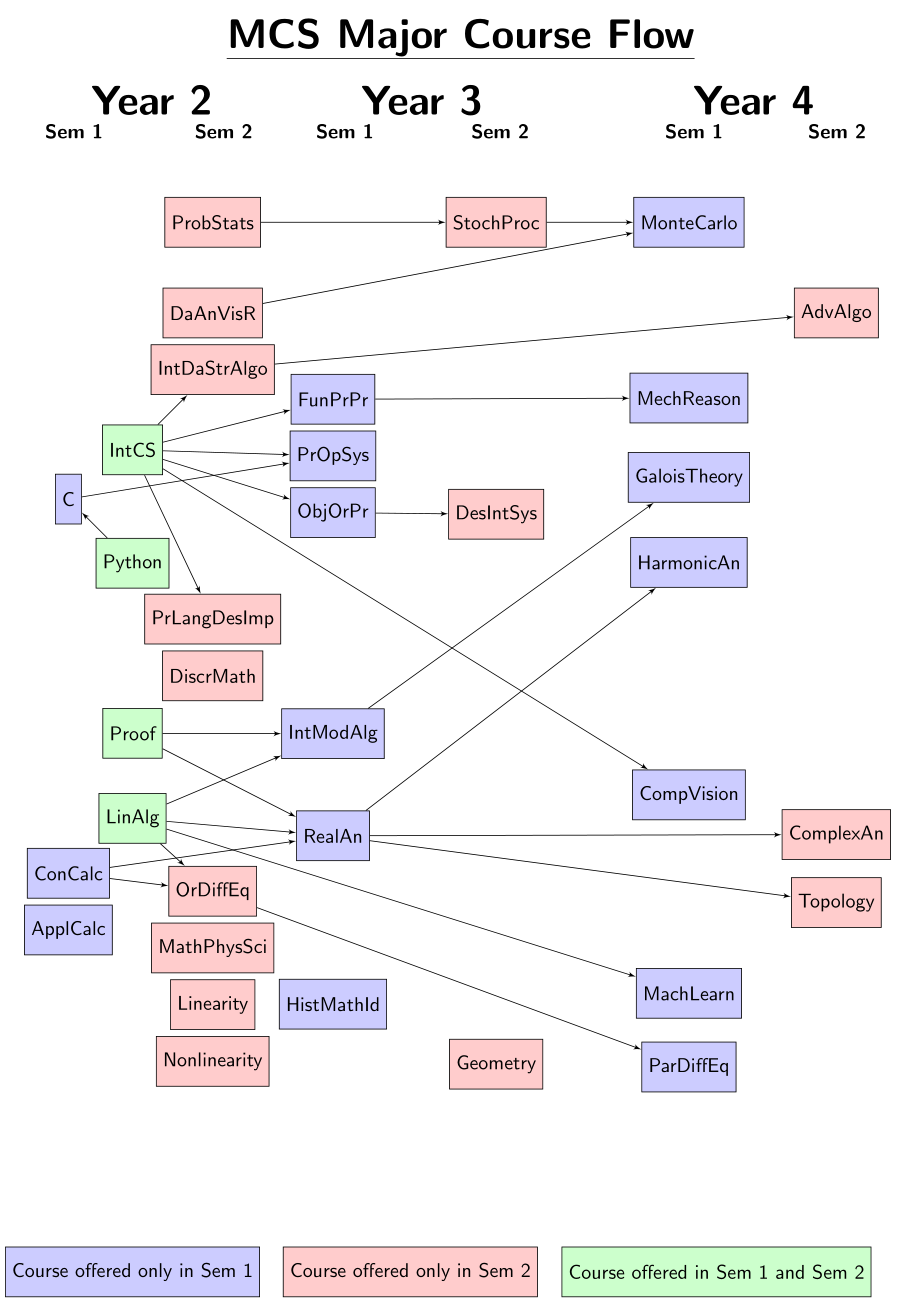 Advanced Algorithms and Data Structures
Semester 2
The course covers the design and analysis of efficient algorithms and data structures, and emphasises ideas rather than implementation. Topics include sequential algorithms and data structures in both imperative and functional styles; parallel algorithms; and concurrent data structures.
Complex Analysis
Semester 2
Complex Analysis develops the calculus of functions of one complex variable. This includes a thorough treatment of the algebra and geometry of complex numbers, holomorphic functions, power series, line integrals and residues.
Computer Vision
Semester 1
The goal of computer vision is to make computers work like human visual perception which, after millions of years of evolution, is extremely good in understanding and recognising objects or scenes. To achieve similar abilities, computer scientists have been developing algorithms by relying on various visual information, and this course is about some of these algorithms. Having been researched for many decades, computer vision encompasses many disciplines, approaches and topics. In this course, we focus on silhouette-based 3D reconstruction, segmentation, multiview geometry, Bayesian/probabilistic inference for image modelling and analysis, object recognition, visual tracking, photometric stereo, image editing and enhancement.
Data Analysis And Visualisation With R
Semester 1
This is a problem-based learning course that teaches students the foundations of modern computational statistics. They will have, by the end of the course, intermediate proficiency in R, being able to write functions, scripts, manage and manipulate data, identify suitable packages, be able to create aesthetically pleasing graphics using grid, and undertake simulation studies. Classes will take place in the computer lab with minimal lecturing, with faculty and students discussing problems and different approaches.
Designing Interactive Systems
Semester 1
A software or mobile application is nothing without a good interface. In this module, students will learn about user-centred design and rapid prototyping. In User-Centered Design, the final user is involved in the creation process. Rapid prototyping is a complementary approach in which the product will be quickly iterated and prototyped using different fidelities, from low (paper and cardboard prototypes, see Google Cardboard) to medium and high fidelity prototypes (3D printed/laser cut for physical devices or mockups). The module is project-based and the final result will be a high fidelity prototype of an actual application or device.
Discrete Mathematics
Semester 2
Discrete Mathematics is the art of combining and arranging sets that are naturally composed of individual pieces, such as the integers, one's network of friends, or the internet. This course develops basic techniques for manipulating discrete sets through a host of concrete examples and applications. Key topics include permutations, partitions, recurrences, generating functions, networks, graph algorithms, and rigorous explorations of the Fibonacci and Catalan numbers, the Principle of Inclusion/Exclusion, the Pigeonhole Principle, and Pascal's Triangle.
Foundations Of Applied Mathematics
Semester 1
While One Real Variable examines the deep workings of one-variable calculus, this course focuses on the extension of calculus to smooth functions of many variables.  A geometric approach leads to a treatment of regions in n-dimensional space, smooth functions and their derivatives, differential forms, cycles, and integration. This course may be suitable for students seeking further study in mathematics for physics or economics.
Fundamentals Of Programming
Semester 2
This course teaches rigorous and systematic methods for developing and analysing software. Its primary focus is on the specification, design, and analysis of algorithms and data structures, mostly in a functional style. It focuses on the OCaml language.  Students will learn to write code that is reliable, efficient, readable, maintainable, testable, verifiable, and beautiful.
Galois Theory
Semester 1
Galois Theory has been described as "one of the jewels of mathematics. Its intrinsic beauty, dramatic history, and deep connections to other areas of mathematics give Galois theory an unequalled richness."  It uses theory of groups, rings and fields to solve ancient problems such as: which numbers, and which regular polygons, can be constructed by straightedge and compasses alone; is it possible to square the circle; and whether explicit formulae for the solution of polynomial equations of degree higher than 2 exist?
Geometry And The Emergence Of Perspective
Semester 1
This course explores two pivotal moments in the history of geometry — the formation of Euclidean geometry in ancient Greece and the emergence of projective (non-Euclidean) geometry in seventeenth and eighteenth-century Europe following the development of perspective drawing in the Italian Renaissance. Through in-depth readings and interpretations of Euclid's Elements and an examination of several influential artistic and scholarly works from the Renaissance, students will rediscover and examine the foundations of modern projective geometry.  No prior knowledge of geometry or familiarity with advanced mathematics is required.
Groups
Semester 1
Groups are fundamental objects of abstract algebra, and they arise in a variety of contexts. This course introduces group theory through a deep study of permutation groups, symmetry groups, and matrix groups. Examples of group actions play a central role. The course includes a study of subgroups, quotients, and homomorphisms, direct and semi-direct products, and other methods of constructing and classifying groups.
Harmonic Analysis
Semester 1
Harmonic Analysis is a classical field of mathematics with roots in solving partial differential equations and also playing a major role in quantum physics. "Big Data" has made applied harmonic analysis a major field of current mathematical research. Applications range from medical to astronomical imaging, from X-ray crystallography to data compression or machine learning. This module is an introduction to basic techniques of harmonic analysis (convolution, approximation, Fourier analysis) and applications in physics or data science (frames wavelets, sparsity). The choice of topics will depend on the instructor.
Introduction To Computer Science
Every semester
Computer science has improved human life dramatically in the last 50 years. This course explains how computational tasks are solved and computers are programmed. You will learn how to be a more careful and methodical thinker. Moreover, millions of people around the world enjoy programming and you can too!
Linear Algebra
Semester 2
A rigorous first course in linear algebra of finite-dimensional real and complex vector spaces. The course covers vectors and linear transformations, building geometric intuition and algebraic aptitude. Topics include spaces and subspaces, linear maps, linear independence and spanning, basis, and representations by coordinates and matrices. The theory of linear operators is developed, including some development of canonical forms, eigenvalues and eigenvectors, characteristic and minimal polynomials. The course also covers the structure of bilinear and Hermitian forms. Other topics may include computational aspects of linear algebra and connections to statistics. Problems may include applications to scientific fields and economics.
Machine Learning
Semester 2
Machine Learning is a collection of techniques where computers can learn from data ideally without being explicitly programmed. For instance, when we train a programme using human-face image data, it should be able to locate faces in an image; yet, if we train the same programme using flower data, it should be able to locate flowers, without explicitly changing the programme itself. This module particularly will focus on statistical machine learning, which relies heavily on probabilistic and statistical analysis.
Number Theory
Semester 1
Number Theory involves a deep study of the integers, including prime decomposition, linear and quadratic Diophantine equations, Diophantine approximation, congruence's of the first and second degree, and quadratic reciprocity.  Applications to cryptography, and computational algorithms are included as well.
Ordinary And Partial Differential Equations
Semester 1
Much of modern science and mathematics is expressed in the language of differential equations. Population models in ecology, financial growth, heat conduction, and water waves are a few examples. In this course, students will solve the classical linear ordinary and partial differential equations. Students will assemble a toolbox of mathematical techniques to solve initial and boundary value problems, including integrating factors, separation of variables, and Fourier series. Though not prerequisites, students are strongly encouraged to take either Linear Algebra or Mathematical Methods before this course. A solid grounding in Calculus is essential.
One Real Variable
Semester 1
This course embarks on a deep study of the real numbers and functions of a single real variable. Fundamental properties of real numbers – arithmetic, distance, limit, convergence, order – are developed from scratch. From there, the course delves into the inner workings of calculus, the general notions of continuity, differentiability, measure, and integration, for functions of one real variable.
Operating Systems
Semester 2
Basic concepts and techniques used to implement operating systems are introduced here. Topics include processes, inter-process communication, memory management, and scheduling. The course will feature a significant project, written in C: the implementation of an operating system.
Principles And Tools Of Software Development
Semester 1
Only being able to programme does not make one a good programmer. This course teaches principles and tools that can make a good software developer. Students will learn basic principles of software development, e.g., encapsulation, information hiding, modularisation, unit/integrated testing, debugging, programming in a team, profiling. They will also learn tools that will help automate these tasks, e.g., Make, version control systems (git), shell scripting, UNIX programming.
Principles Of Statistics
Semester 1
This course brings together the various methods and ideas developed in other courses. Students learn how to convert substantive problems into statistical solutions, how to design studies, communicate results to the laity (in discussion, presentations, and writing), and write statistical analysis in formal scientific prose. Learning will take place via several projects — ideally consulting for a non-statistician in Yale-NUS or elsewhere where such consultations can be arranged — and seminars.
Programming Language Design And Implementation
Semester 1
This is a course in the design and implementation of computer languages. Topics include lexing, parsing, tree-based programme representations, type checking, interpreters, runtime systems, and compilers. This course will focus on a significant project, written in OCaml, in the area of programming language implementation.
Proof: Theoretical foundations For Mathematics And Computer Science
Every semester
Mathematicians and computer scientists write proofs: convincing arguments, combining clear and concise language, computations and symbolic manipulation, illustrations and tables. By reading, writing, and revising proofs, students will be prepared for modern topics in analysis, algebra, geometry, and theoretical computer science. Students will write proofs that utilise direct deduction and proof by contradiction, complicated logical structures with cases, and mathematical induction. Students will acquire a thorough knowledge of naïve set theory, including sets and functions, equivalence relations and classes, cardinal and ordinal arithmetic. Topics in discrete mathematics will include the combinatorics of finite structures such as graphs and trees.
Regression Methods
Semester 2
This course covers the main techniques used in regression analyses.  Students will learn generalised linear models, including logistic regression and Poisson regression, about separation, Cox regression, extended Cox regression, model checking, hierarchical models, lasso, model selection using Akaike's Information Criterion, stepwise model selection and the Hosmer-Lemeshow method. The course will be taught in a lecture and computer lab.
Rings and Fields
Semester 2
Rings And fields are mathematical realms that share some similarities with our number systems. Within a ring or field, one may add, subtract, and multiply, and some familiar axioms hold. This course introduces rings and fields, through examples such as polynomial rings, rings of algebraic integers, and finite fields, where they have applications to cryptography.
Statistical Computing
Semester 1
This is a problem-based learning course that brings students up to advanced proficiency in computational statistics using R.  Students will learn how to implement and understand the theory behind techniques including Markov chain Monte Carlo, Hamiltonian Monte Carlo, sequential importance sampling, lasso, and data mining techniques.  As new methodologies enter the statistical mainstream, these will be incorporated into the course. Classes will take place primarily in a computer lab with small group discussions.
Statistical Inference
Semester 2
This course is a key bridging course for the statistics major which will give the requisite knowledge to be able to take any of the subsequent courses, as well as elective courses taught by the Department of Statistics and Applied Probability in NUS proper. Topics will include the likelihood function, Bayesian inference, the central limit theorem, likelihood ratio tests, model comparison and frequentist desiderata.
Stochastic Processes and Models
Semester 1
This course covers some traditional material from classes on stochastic processes (discrete and continuous time models, discrete and continuous state-space models) but from the perspective of understanding the models and being able to apply them to real problems rather than focusing on proofs. Students will learn how to simulate stochastic models, how to undertake inference (using data augmentation and Markov chain Monte Carlo, approximate Bayesian computation, and/or importance sampling) and developing suitable models for real problems, such as emerging infectious diseases. Classes will take the form of lectures plus computer labs.
Topology
Semester 2
Metric spaces are the abstract setting for the study of distances, while topology is the study of shapes. These subjects form a basic framework for geometric reasoning in mathematics and its applications (such as social and digital networks, equilibrium theory in economics, cosmology, robotics, stereochemistry and molecular biology). Topics covered include metric spaces and continuity, completeness, topological spaces, separation axioms, connectedness, compactness.
CAPSTONE
The capstone experience offers each student an opportunity to learn a subject in great depth, to apply and reflect on previous coursework, and to reach out to other disciplines. It also serves to develop further skills in technical exposition, both written and spoken. Graduating students will enjoy the self-confidence and initiative that comes from having successfully conducted an independent research inquiry. Sample topics include: topological field theory and physics; robotics; number theory and cryptography; survival statistics; social network analysis; computer graphics; smartphones as a distributed computing platform; neuroimaging.
MINOR
An MCS minor offers students the opportunity to engage with advanced topics in mathematics, computation, and statistics. This can be an excellent supplement for students pursuing a major in quantitative social sciences, natural science, philosophy, etc. We encourage students to pursue an MCS minor to enhance their major, to explore their curiosity, and to develop skills for future employment.
To minor in MCS, a student must complete at least five MCS courses (25 MC). MCS faculty are pleased to assist students to design a suitable programme of study for the minor. The Head of Studies must approve any pathway that is meant to satisfy the requirements for an MCS minor.